Guess who's baaack! I know it's been a whole month since my last post, and that's because the blog fell a bit lower on my list of priorities—life happens, right? In fact, I think taking a break can be the best thing for creativity. Take singer-songwriters, for example; they usually aren't cranking out album after album. I don't know about other bloggers, but spending time and space away from the screen to experience new things, visit new places (and of course, try new foods), works wonders for my content inspiration. 
So last week at work, our digital team ordered lunch from this Mexican place called Hot Peppers and it was to die for. While I was deciding what to do for dinner tonight, I daydreamed again about that burrito bowl. Unfortunately, Hot Peppers is out of delivery range to my apartment, so I hit the grocery store instead to pick up a few simple ingredients for these homemade enchiladas. The best part is a) I now have leftovers for tomorrow, b) I saved myself a lot of calories, and c) now you can make it too!
I love the gooey texture of the tortillas when they absorb that flavorful sauce, and the hit of sweetness from the fajitas curbs the saltiness of the dish just a tad. You can use whatever protein you want (refried beans, ground beef or pulled pork are all stellar options). I used chicken because it works with the tikka masala I have planned for later in the week!
Creamy Chicken Enchiladas (serves up to two)
Ingredients
2 chicken breasts, cut into bite-sized pieces
1 small can cream of chicken condensed soup
1/2 cup red enchilada sauce (more if desired!)
4 small flour tortillas
1 bell pepper, thinly sliced
1/2 red onion, thinly sliced
Handful of shredded cheese
Fresh cilantro, chopped
Green onions, chopped
Sour cream
Steps:
Preheat oven to 375℉
Add chicken to a greased skillet on medium-high heat until fully cooked (oh and as usual, sprinkle it with a little salt & pepper!)
While that's going on, prepare soup according to label's directions. Add red enchilada sauce and whisk to incorporate (whisking ensures that no clumps of condensed soup are left behind).
After the chicken is done, set it aside on a plate. Add the peppers and onions to the pan and sauté on high heat for a few minutes, just until slightly soft.
Spoon enough sauce mixture to coat the bottom of a square baking dish.
Assemble the enchiladas (ya know how it goes, add some chicken and fajitas to a tortilla, then roll up… but don't overfill!)
Once all enchiladas are snuggled up in the pan, sprinkle on the cheese and pour enough sauce to completely cover the top. Note: I know a lot of recipes tell you to add the cheese last… I prefer to have it underneath the sauce because then it won't burn. Do whatcha want though 🙂
Bake for 20 minutes.
Garnish with cilantro, green onions and sour cream before serving.
Let me know how it turns out in the comments!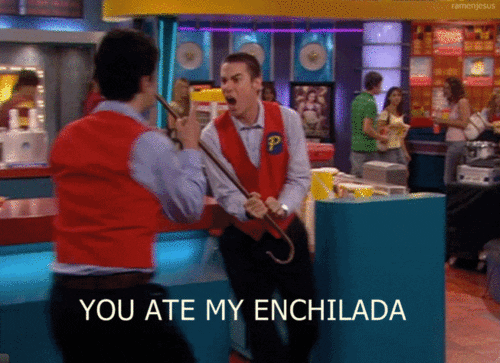 ~Remember to follow Fit by the Fork on Instagram~